David Cortesi - The Artist
Formally trained as a classical animator through Sheridan College, David has worked on projects for Walt Disney Studios, Warner Bros. and 20th Century Fox, to name a few.
In creating all the stationery for his first wedding in 2002, David envisioned designing a line of unique, stylized conceptuals similar to works he has exhibited in both the advertising and entertainment realm.
As David continues to design for various sectors of business he still holds a special place in his heart for weddings. Knowing that it is a truly unique day in one's life, he believes that it should endure in the hearts of all who attend long after the last slow dance.
One way to accomplish this feat is to create a special feel that reflects your taste and your style...starting with your invitations.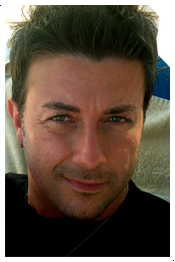 David Cortesi